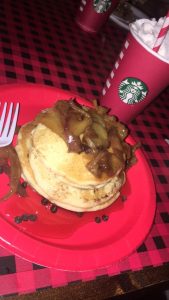 Friday night we hosted a community Christmas Party and it was a wonderful night of fellowship and lots of yummy pancakes! The night kicked off with mingling and a prayer before we devoured our pancakes, which were made by our wonderful volunteers! We also had a hot chocolate bad and every topping you could think of to go with it.  While we ate, we got to interact with new moms and old moms and talk about life and how this semester has been for us.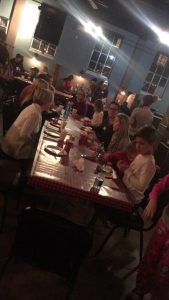 After we were done eating, there were various stations set up for families to make cookies together as well as make a family ornament to cherish for years to come.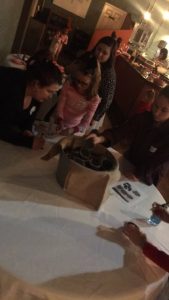 To close out the night we had a Christmas Story from an advent book read to us and then we also had Christmas Karaoke, which the kiddos sang their little hearts out and had so much fun with!
Our hearts were so blessed at the outpouring of love and friendship witnessed Friday night and we could not be more grateful for everyone who chose to come join us in their pajamas that night.
It might have been cold outside but the love that filled the room made Pancakes & Pajamas the warmest place to be. The MOMentum Network has a lot of exciting things we are preparing for the New Year and we hope to see you there! To stay up to date with events be sure to check our website as well as Instagram, Facebook, and Twitter.
We hope you have a Merry Christmas and a Happy New Year!