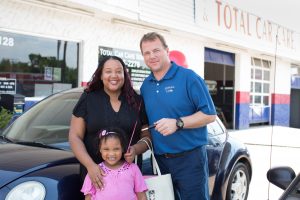 For the second year in a row, AC Delco, Hixson Transmission & Total Car Care and The MOMentum Network have teamed up to keep moms moving forward on the road to success just in time for Mother's Day. On Thursday May 11th, three local single moms juggling work, college and raising their children received major car repairs totaling over $5000 during AC Delco's Annual Day of Service.
One mom posted on The MOMentum Network's Facebook page, "Just when you feel alone and helpless like everything's going wrong, God sends you help right on time… I also want to thank Hixson Transmission for working on my truck for mother's day, [this] is by far the best gift."
AC Delco's Day of Service began last year in celebration of their 100th Anniversary & Hixson Transmission is one of 40 shops across the country participating in the second annual event. Owner Chuck Miller says "It's an honor to give back the community who has entrusted us for years to take care of their cars. We're are happy to have the opportunity to take care of moms who have gone through so much to move forward. Keeping their cars running is one less thing they have to worry about."
Cara Hicks, The MOMentum Network's Founder shared, "We established a relationship with Hixson Transmission in 2015 when a mom in our program had a major car repair that almost caused her to drop out during her last year of college, lose her spot at a quality childcare program and lose her job. Collaborating with Hixson Transmission and generous donors allowed her to graduate with an engineering degree and continue on the path to success for her and her children. Since then, we've been so grateful to have AC Delco join in and offer this additional opportunity to help 8 more moms & their children."
View more stories from shops around the national who took part in AC Delco's Day of Service, search Twitter using #DayofService. To get help or share hope with single moms through The MOMentum Network, visit MomentumNetwork.org/connect.  Thanks to Hixson Transmission for your continued service to the community!