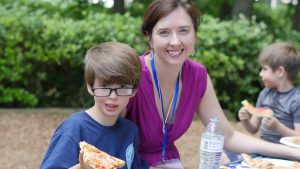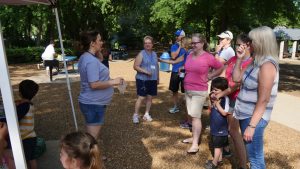 The Picnic and Play Date started out with a prayer that set the tone for deep connections at River Park. In an environment that gave much of a sense of a family reunion, it was rewarding to meet new people along with the members and children who have survived the semester with us. The relief of being outdoors and having fun with the kids was felt throughout. And the breeze coming off the river was just what was needed to be reminded that summer has begun.
Our friends from the Educational Opportunity Center informed us that this is the best time to get a jump start on better funding our education in the Fall semester. We are encouraged to make appointments in order to find resources included with but not directly coming through FAFSA applications. The end of a semester is a great time to both reflect on the one past and look forward to the coming term with new goals. Having more financial resources can be that goal..
Face-painting began slowly, but the picnic table quickly turned into a "makeover station." The children were excited to not only cover smiling faces with bright colors but also be inspiration to others practicing their craft.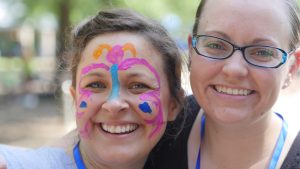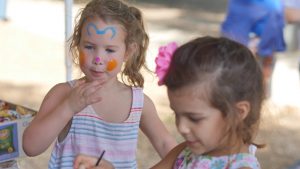 No MOMentum event can be complete without plenty of fun and food. The children were called from the playground and told to come sit down with their mothers and the volunteers and mentors. In true MOMentum fashion, food was passed around until everyone had enough to eat, and it happened so that each person was looking out for the person next to them. I was handed a plate that I passed to someone else and was then passed down further. It didn't matter how hungry we were, just that the person next to us was not hungry.
Thank you to the volunteers who prayed for the moms who have yet to find MOMentum. The time you took to send those prayers up is greatly appreciated. MOMentum is all about community and growth, and having that support for our gatherings and through prayers solidifies that mission.