MPower
Building Life Skills & Relationships for Life
Being a single mom doesn't have to define you, but it can refine you. During MPower, we'll walk you through the journey of propelling your purpose and defining your direction. We'll help you identify strengths & assess struggles, and better understand the habits they need to practice daily to prosper. Additionally, you'll have the potential to gain resume-enhancing credentials, develop or deepen real relationships with moms &/or mentors, and grow an awareness of the impact you can have on their family, communities, and in their careers.
Meal and childcare provided (in most circumstances). Course is held at least twice a year and is a requirement for our residential program.
Topics covered, but not limited to: mindset, personal awareness & asset identification,  values assessment, overcoming the past, setting healthy boundaries, time management, finances & budgeting, decision-making, and positive parenting.
Whether you're a student experiencing an unplanned pregnancy or a mom who didn't plan to be parenting solo without a degree, we're here to help you keep moving forward to complete your degree leading to a living wage career that fits your calling.
We see your hopes and dreams and believe that you don't have to give them up when life doesn't go as planned. Read below for more information about offerings open to members of the network.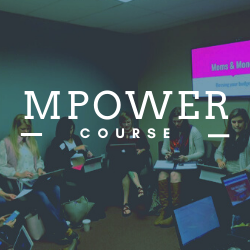 In person sessions begin June 1st.  An online orientation is required to be viewed prior to attending. Successful completion of MPower is required prior to being invited to apply for Scholar Village Residency or Fellowship.