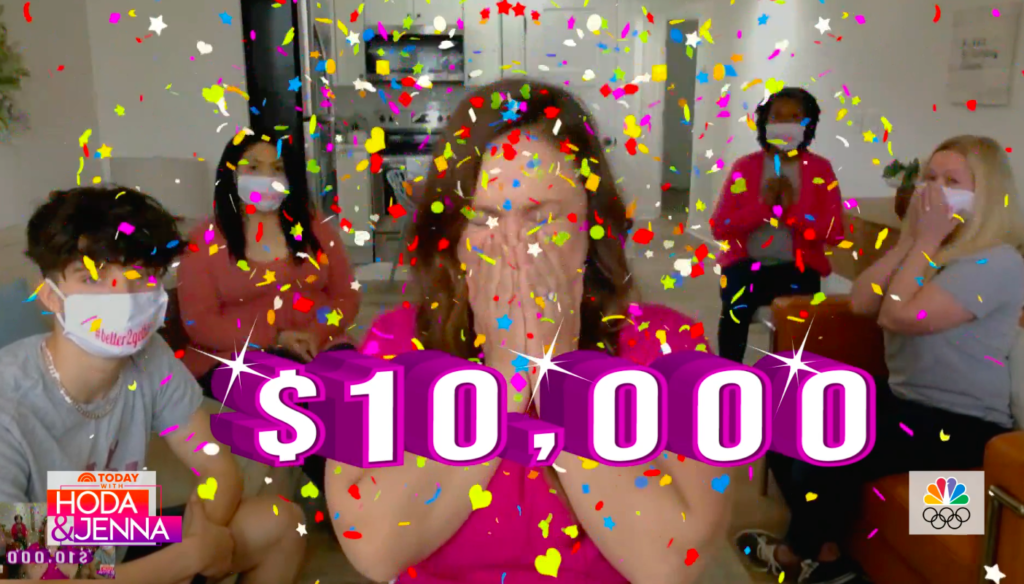 MARCH 12, 2021, Chattanooga, TN —When a young Chattanooga mother started The MOMentum Network in 2014 to help Tennessee Valley single moms achieve higher education, few were watching and support was hard to come by. Yesterday, a global audience learned about the impact the MOMentum Network has had on more than 170 Chattanooga women and children and countless future generations, when TODAY with HODA & JENNA profiled the organization.
"I went from feeling hopeless and afraid, to believing 'I can do this' with the help of my friends," MOMentum Network founder Cara Hicks told NBC's TODAY with HODA & JENNA as she described her own experience as a single mother and student at the University of Georgia. Hicks explained that, through the help of a campus ministry, she found the community of support needed to help her graduate and build a strong career and future for herself and her son. It was this experience that prompted her to start The MOMentum Network to help other young women in a similar situation.
"God is so good to have walked me through a difficult pathway. It's such a privilege to be able to use that experience to come alongside incredible women and Chattanooga volunteers to make a generational difference," Hicks told Hoda Kotb and Jenna Bush Hagar in a live interview that followed a taped feature about the Chattanooga-based nonprofit.
The broadcast featured several Chattanooga "moms" who have benefitted from the mentoring, coaching, housing, tutoring, and mutual support of The MOMentum Network on their way to obtaining a degree and launching a career. "This program has really helped me focus on my goals. I want to get a degree and career to support myself and my child," Angel Townsend said. She was virtually homeless and failing out of school before she found The MOMentum Network through a counselor at the University of Tennessee at Chattanooga. Today she is working toward her degree in respiratory therapy and making straight A's. Townsend lives in MOMentum Network's "Scholar Village", a program where single moms live, learn and lean on each other.
Past MOMentum Network participant Merilee Daniels, now a Scholar program graduate, and married mother of two, working in the Accounting industry, told interviewers "Cara just wants to help with no strings attached, she just wants to help you succeed." Kari Redden was part of MOMentum's first "Scholar class" of moms and is now entering her final year of law school. She says her success is due, in large part, to the support and community she found through MOMentum. "It truly is a network, we are a family, a sisterhood," Redden said.
When interviewers asked Hicks, now a married mother of five, her motivation for continuing the long hours and hard work as founder and "Chief Empowerment Officer", she responded "When a mom is empowered, a child is empowered, and when a mom and a child are empowered, our whole community is better."
During the live interview Hicks was visibly surprised and moved when show hosts Kotb and Hagar told her that Amazon was so impressed with the organization's mission and work that they were giving each of the participating moms a $250 Amazon gift card and The MOMentum Network a $10,000 donation.